Standing room only for presentation on Sioux San land history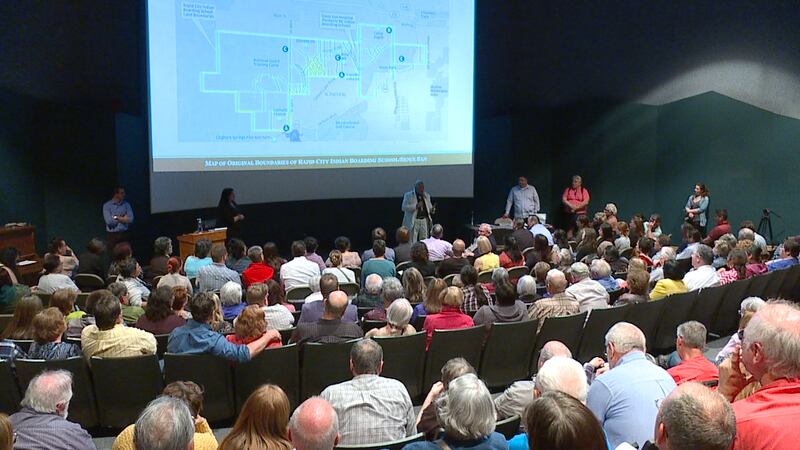 Published: May. 4, 2017 at 11:24 PM CDT
Score of people were turned away Thursday night at a presentation exploring the history of west Rapid City land ownership and racial inequities.
More than 200 people shoehorned their way into the journey museum for a slide show presentation billed as "an inconvenient truth."
Researchers Heather Dawn Thompson and Kibbe Conti told the history of 1,200 acres of Rapid City originally owned by the Rapid City Indian Boarding School.
Sioux San Hospital stands today where the school used to be but most of the land is now in the hands of the National Guard, the city of Rapid City and area churches. Federal law holds that "Needy Indians" derive benefit from some of the land but there is little in the record to show that has been adhered to.
The researchers hope a positive conversation can come of a deeper understanding of the land's history.
"We're hoping this opens a whole new conversation within the Rapid City community," said Thompson. "We hope people start sharing this information and it becomes a shared foundational, historical knowledge and we can talk about how we can move forward in a really positive way from here."
Those thoughts seemed to have struck a chord at the Journey Museum.
"After I leave I'm going to take out my phone and I'm going to get as many people as I can and I'm going to say, "Hey I went to this really, really eye-opening presentation." Said Steven High School senior Isabel Anderson. "It is an important history that we as Natives and non-Natives need to be aware of in order to move forward,"
A second presentation of Thompson and Conti's work will be given on May 18th.
Given the overflow crowd Thursday night, event organizers say they look for a larger venue.