Researchers locate long lost Wounded Knee survivor buried in Rapid City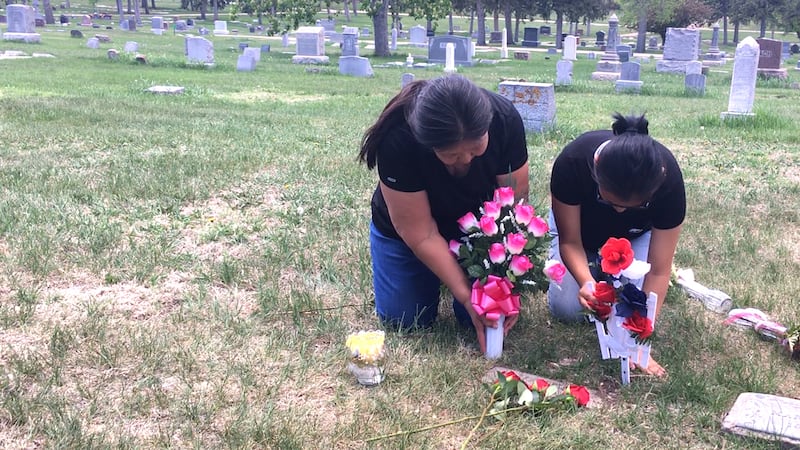 Published: May. 17, 2017 at 2:46 PM CDT
Researchers digging into the history of children who died at the old Rapid City Indian Boarding School made a remarkable discovery this month that closed a century old wound for one family -- even as it exposed a scar on the nation's history.
Heather Dawn Thompson and colleague Kibbe Conti have been toiling for five years to identify those who died at the school between 1898 and 1933.
"We know that several of them were buried in an unmarked cemetery (on the school grounds that is now the site of Sioux San Hospital)," said Thompson. "But there were indications that a few of them were buried at (Rapid City's) Mountain View Cemetery."
So they sent a list of names to the cemetery in hopes the records matched. Several did.
"And one of them was Mabel Holy who was buried right over there," said Thompson recently while walking through Mountain View Cemetery.
Thompson posted the find on Facebook.
Does anyone know who Mabel Holy is, she asked? The response was almost instantaneous from Holy's relatives on the Cheyenne River Indian Reservation.
"It was, 'Oh my gosh. We've been looking for Mabel for a 116 years and we're going to come see her now,'" said Thompson. "It was amazing."
"Amazing" may not be strong enough word.
As a little girl in 1890 Mabel Holy survived the Wounded Knee Massacre when Chief Big Foot's band was all but wiped out.
In 1898 she was plucked from her family and put in the first class of the Rapid City Indian Boarding School.
She died there in 1901 before word could get to her family.
Twenty eight years later her brother, Leon Holy, wrote the school for word of his sister.
The school responded that no records existed.
"We regret to advise you that … we cannot give you the desired information," wrote school Superintendent Sharon Mote.
Leon Holy spent the rest of his years wondering what happened to his sister.
On May 6 this year, after learning that Thompson and Conti had located Mabel Holy's grave, Leon Holy's 87–year–old son, Martin Holy, drove down with other family members to finally reunite with Mabel.
He had spent his childhood listening to tales of his missing aunt.
"I'm glad now that my uncle was able to see where (Mabel) is," said Martin Holy's niece Violet Catches. "He's really happy about that and said to thank all of the ones that were responsible for finding her. He's really grateful for that."
But Catches couldn't shake the mixed emotions that finding Mabel prompted.
"A lot of the members of the Big Foot Tribe always say that we're forgotten people," she said.
"So I imagine that (Mabel) may have thought that she was forgotten. So I told her (at the grave site), 'You're not forgotten. They found you. We found you. We're here. We're going to do all we can to remember you from now on.' That's what I told her. Finding her is really a kind of a joy but at the same time it's very sad. Sad because of the fact that my grandpa was looking for her. My grandma was looking for her. They didn't get to see her."
Catches says the family plans to place a proper headstone on Holy's grave to properly memorialize her.
----
If you want to learn more about Thompson and Conti's work that explores the children of the Rapid City Indian Boarding School as well as the history of the land surrounding it, go to https://www.moarapidcity.org/thoughts-and-perspectives