Rapid City dentist provides more than smiles at orphanage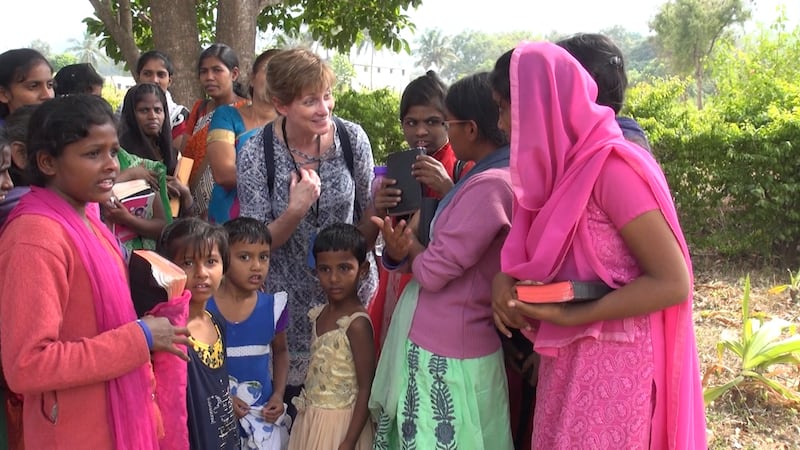 Published: Feb. 13, 2019 at 12:03 PM CST
Dentistry is what brought Dr. D'Jonna Sewell of Rapid City to India, to provide free dental care to orphans. But she quickly learned that there was a lot more involved to get these young orphans to smile. They needed help with clothing, food, shelter, and education.
It all started 15 years ago when Dr. Sewell had an opportunity to come to India.
"I said I've been in Mexico a lot... I don't want to go to India," remembers Dr. Sewell.
She's traveled to lots of places on many mission dentistry trips.
"Then the family who runs the orphanage came out to Rapid City and so they were at the office for a couple of days and I got more connected to them and then it convinced me that maybe I should go to India and just see what that's about," says Dr. Sewell.
And so she was hooked. Not just by the orphans but by the family that takes care of them. The patriarch, called Joy, and his wife and four children. They've been running the children's orphanage for over 50 years. Joy has also arranged over 75 marriages. Arranged marriages are quite common in India and he wants to be sure his orphans marry into a good family.
Dr. Sewell joined up with the family and others like Mike Ogle to see how else they could help.
"When you see street kids living at the dump or on the streets... there's a lot of sex trafficking. If we can avoid that, to give them some hope in their life," says Dr. Sewell.
"The dump" is what locals call it and it's sort of a dumping ground for abandoned children. As strange as it sounds, it's a safe place where people can come and give children food. I wasn't allowed to go there because the locals worried that my presence would bring unwelcome attention.
I was able to visit the girl's orphanage. Priya, one of Joy's daughters, gave me a tour. Before Dr. Sewell came to the orphanage, they desperately needed a new dining hall.
"The problem was we used to have so many snakes....a blessing to have this great building...easy to clean… no snakes," says Priya.
Currently, 26 girls live at the orphanage and their lives have been drastically improved.
"They are all from different backgrounds they all have tragedies," explains Priya.
Shama is a typical example. Her mother wanted to sell her into prostitution.
"She has a different life now, her life is transformed. She has opportunity now ...that's amazing" says Priya about Shama.
Watching the girls dance and sing, it would seem they don't have a care in the world. But there have been setbacks. The boy's orphanage had to be closed; all because an elephant died there.
"An elephant is seen as a Hindu god," explains Dr. Sewell.
And because Joy owned the property, he was held accountable and immediately put in jail.
Dr. Sewell remembers what happened, "that first night they came and took him and he's diabetic and he had none of his meds with him and they made him sleep outside that night"
The orphaned boys were sent away.
"It was too much chance of them having problems," reasoned Dr. Sewell.
The group also helps with new church openings, but there is always a fear that protests or violence might break out from those who don't want a Christian church in their village. Cases of violence and other forms of persecution against Christians have nearly doubled in the past few years.
Mike Ogle says his work with Dr. Sewell has more to do with helping improve lives.
"When we feed the hungry we're feeding the Hindu kids. We're not feeding them because they're Christian kids that need to be fed, we're feeding them because they're hungry kids that need to be fed and we don't care if their Hindu kids are Christian kids or whatever," says Ogle.
"I always say I can't change India I can't change everything here and I'm not looking to but if I can help these little kiddos grow up they can make a difference in their own country," says Dr. Sewell.
Over the years, Dr. Sewell has even sent some of the girls to nursing school. The cost was only $600 a year. If you'd like to help, Dr. Sewell has set up a GoFund me page. You can find it at
.