Pageant Queen uses platform to talk about sexual assault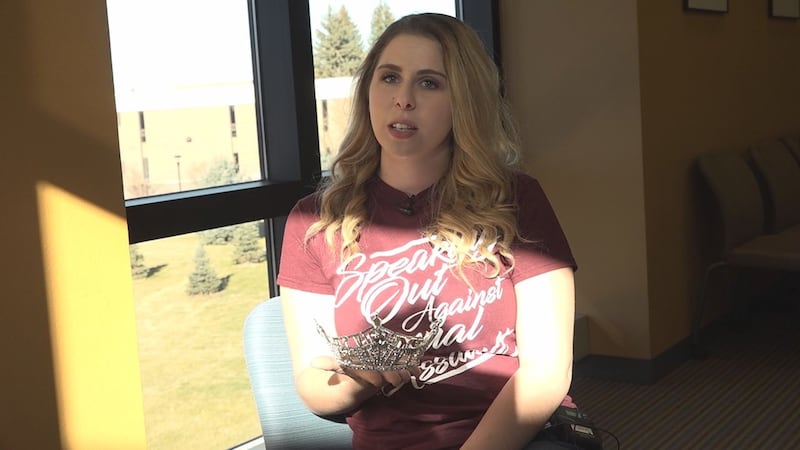 Published: Nov. 28, 2017 at 6:49 PM CST
The tiara doesn't weigh as much as it used to.
"It's a lighter one, they used to be really heavy."
But nothing compares to what weighs on her heart.
"I am a sexual assault victim."
Tristen Wecker, two time pageant queen and current junior at Black Hills State University, says it started at 6-years-old.
"I had different things happening to me and I wasn't sure what they were. And I was so confused," said Wecker, who is currently Miss Fur Trade Days, representing Northwestern Nebraska and was formerly Miss Old West Balloon Fest.
For years she stayed quiet, embarrassed. When she was in 7th grade, she finally told someone and got the help she needed. And now as a pageant queen, she wants to use her limelight to shine awareness on the still taboo topic–sexual assault.
"Anything like that is put on the back burner," started Wecker. "So I started to talk more about it. Starting at a young age will show it's not a taboo thing to talk about and it's not a scary thing."
She took on a topic no other Nebraska Beauty Queen would touch.
"It was a very sensitive topic and they said be prepared for people to say this isn't appropriate to talk about, be prepared for people to blame you," she said. "And I definitely faced some challenges but I know if I'm not comfortable, I am making other people more aware and safe in the long run. A couple of minutes of uncomfortable is ok with me."
Wecker's platform has three main points. 1. How to tell if someone has been sexually assaulted. 2. How to be an effective bystander. 3. What survivors are legally entitled to. She speaks on campus, at community events, and encourages other survivors to find their voices.
"Just seeing how much they suffered and still are suffering, that's my main drive. I don't want people to go through that so whatever I need to do, I will."
Wecker is currently studying Elementary Education and plans to graduate BHSU next December. She will be competing in June for Miss Nebraska and hopes to take her platform to the national stage through the Miss America Program. If you would like to follow her platform, follow her
.