Motel in Upton, Wyoming burns to ground after explosion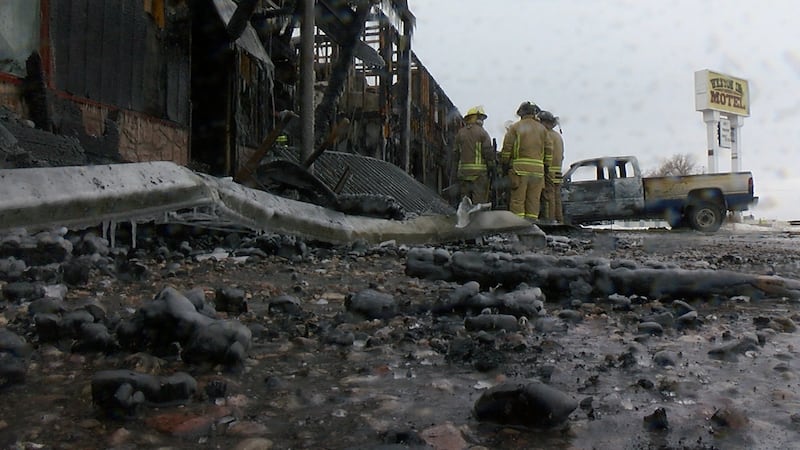 Published: Dec. 27, 2016 at 5:48 PM CST
Ash and debris is all that's left of the Weston Inn Motel in Upton, Wyoming.
"When our command unit got on scene, it was fully involved. We had 3 structure engines that responded and about 35 first responders," said Tiffony Riehemann, Upton Volunteer Fire Department.
The Wyoming State Fire Marshal is investigating the cause of the fire but firefighters at the scene say there was an explosion that may have started in the laundry room.
"There was one occupant, and they were out and safe when we got here."
Sandy Johnson, whose family has helped run the motel for years, is the mother of that occupant. Her son Caleb Johnson is the motel manager and lived in the facility.
"He was asleep last night and he's not exactly sure what woke him up, if it was the explosion or if he had to use the bathroom," said Johnson.
Caleb was the only one in the building and made it out with his pet cat. There were no guests checked in.
"With the fire starting in the middle of the building, it could've been devastating to any guest that had been there.
Caleb Johnson lost everything he owned in the fire, including 3 vehicles, one of which was passed down from his father.
"We lost my husband only 4 months ago and now this comes as a big hit," said Sandy Johnson.
Johnson says now her son will live with her as he looks for a new job.
"We're just going to try to pick up the pieces."
It's a long day for the Upton Volunteer Fire Department, but before they go home, they are determined to make sure everything is safe.
"We're going to keep through the motel, and make sure we're not missing everything hot in the walls, make sure nothing else flares up or falls down. As far as the actual take down of the structure, that's going to be up to the property owner," said Riehemann.
It took 4 hours for firefighters to contain the blaze. The cause of the fire is still under investigation.