Ice-water rescue team trains with new ROV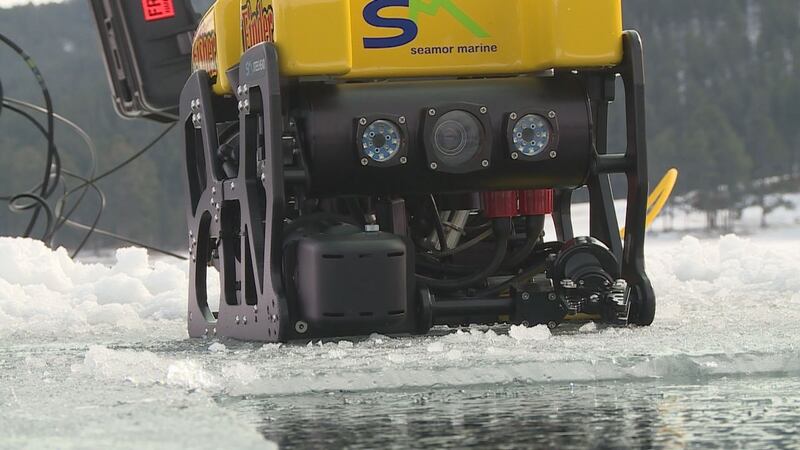 Published: Feb. 8, 2018 at 5:00 PM CST
Snow sets a serene scene, until the quiet and the ice is broken.
Pactola Reservoir, this morning received a fresh dusting... and the Rapid City/Pennington County Water rescue team, received a fresh dousing.
"Each day that something doesn't happen brings us that much closer to one day that it will happen. So we like to be trained up and prepared to handle the situation.
Several newbies were swimming under the 14 inch layer of ice and overcast skies. With so many variables the exercise is the annual emphasis of practice makes perfect.
"This adds another element. It's a little bit of a phycological factor when you have one ten bye ten by ten triangle that you came in and that's where you got to go out."
The hot topic on the frozen lake was the new remote operated vehicle.
"We're very excited to have the ROV. Instead of sending a diver under the water, 50 to 80 times to clear all these points, we can send the ROV and it can stay under with no limit on time with how long it's under and it can go from point to point. The ROV team is going to bring right around five to ten guys as well. And they're going to do a joint training here with us today."
The sonar-operated device doesn't take the place of divers but it makes the whole process more efficient.
"This piece of equiptment is absolutely amazing. We're very pleased with its a capabilites and we think it's going to be an awesome asset to our community."
One day of commotion. Worth it for the preperation it provides.
The ROV is named the 'Fisher Finder' after Gabby Fisher who died in boating accident in 2015. This is South Dakota's only device of its kind and it's a direct result of the Fisher family's fundraising.