800,000 people suffer from a heart attack every year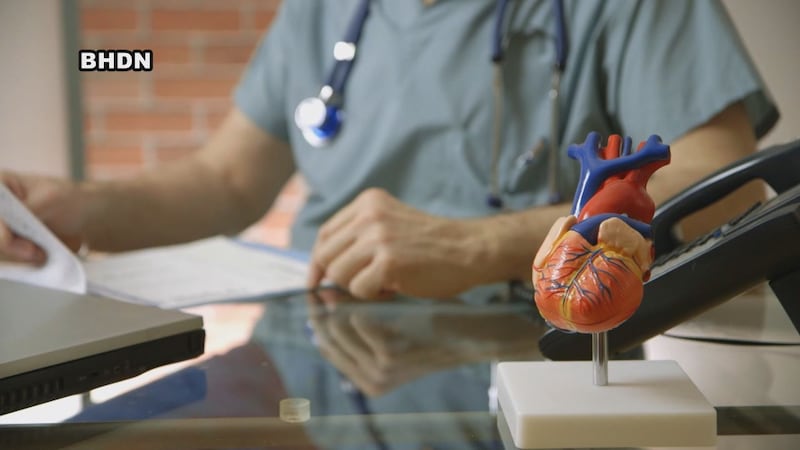 Published: Mar. 20, 2023 at 9:26 PM CDT
RAPID CITY, S.D. (KOTA) - Last week in Nebraska, a man suffered a heart attack while driving on the interstate. His wife was able to pull the car over from the passenger seat.
A bystander was able to help get the man out of the car, however, the wife and bystander did not know CPR. Miraculously a nurse came running up and was able to provide CPR on the husband, saving his life.
That prompted the question, what would you do in that situation? Do you know what to look for?
According to the CDC, in the United States every year about 800,000 people suffer from a heart attack.
A heart attack is when an artery that brings oxygen to a part of the heart muscle suddenly becomes blocked, if oxygen is not restored right away that part of the muscle starts to die.
"Chest pain, pressure, tightness, heaviness, you can radiation of that pain to your neck, back, or your arms. I feel like women, in general, will sometimes tell me that they have shoulder blade pain or indigestion, and that can be kind of hard to differentiate," said Kimberly Hayden, physician assistant, at Monument Health.
People can also feel increased shortness of breath, sweating, or feel sick to their stomach.
Sometimes people will get no warning signs before a heart attack, but if chest pain goes on for longer than 20 minutes you should seek medical attention right away.
If someone is unresponsive, and EMS is on the way, bystanders should start CPR.
"If someone has an out-of-hospital cardiac arrest, where the heart is either not pumping or not pumping efficiently enough to move blood, really CPR is the only way to try to preserve any sort of blood flow not only to the heart but really to your brain," said Hayden.
Unlike most tissues, the heart cannot restore itself, so the effects of a heart attack can often be permanent.
Copyright 2023 KOTA. All rights reserved.