Real-life 'Top Gun' from South Dakota finally recognized for Korean War dogfight
For decades, South Dakota native and Navy pilot Royce Williams couldn't talk about downing 4 Soviet MIGs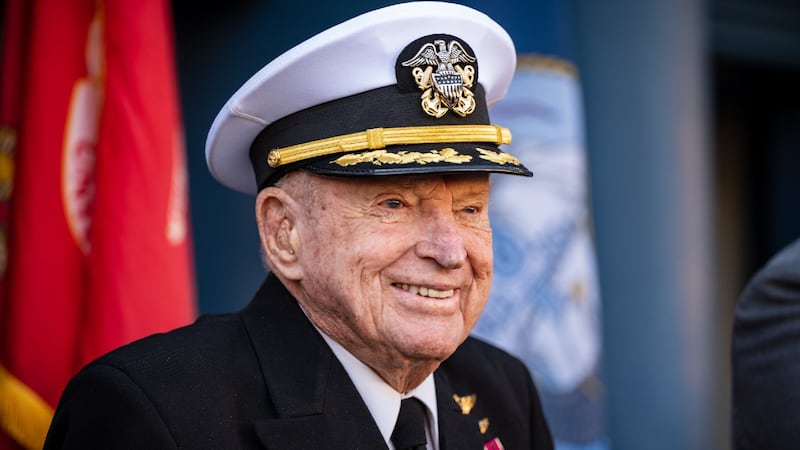 Published: Jan. 23, 2023 at 2:34 PM CST
RAPID CITY, S.D. (KOTA) - Retired U.S. Navy Capt. E. Royce Williams (from Wilmot, S.D.) earned the Silver Star for his service in the Korean War, including 70 combat missions. But there was something always missing.
In November 1952, then-Lt. Williams led three F9F Panthers in a ground support mission over North Korea, near the Soviet Union border. While the other Panthers were returning to the carrier USS Oriskany, Williams' Panther was jumped by seven Soviet Union MIG 15s, which outclassed the Panther in every aspect.
Despite being outnumbered and outclassed, Williams was able to shoot down four MIGs. His Panther was so badly damaged that when Williams landed on the carrier, the plane was dumped overboard. But Williams was unscathed.
"This whole thing lasted 30, 35 minutes," Williams said in a Navy documentary (watch the video below). "There was somebody shooting at me the whole time. So, I'm on the defensive. I'm not really declaring war on them. I'm trying to keep in the fight."
His heroics were highly classified at the time since the U.S. was not actually at war with the Soviet Union. It wasn't until 2016 when the military declassified the combat.
Since then, there was a campaign that included South Dakota Sen. Mike Rounds to upgrade Williams' Silver Star to the Navy Cross. Finally, Friday, Jan. 20, Williams was presented the Navy Cross.
"Royce is a true American hero, and I am pleased he is finally receiving the Navy Cross," said Rounds. "As the second-highest military decoration for sailors and marines, it is truly reserved for those who displayed extraordinary heroism in combat with armed enemy forces. His distinguished actions over 70 years ago is a story for the ages. I can't think of anyone more deserving of this award than Royce, and I am grateful for his service to our nation."
Copyright 2023 KOTA. All rights reserved.